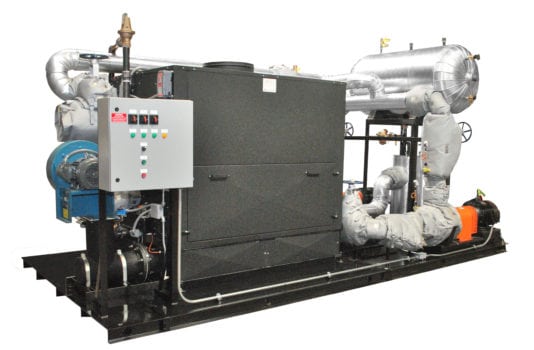 Never A Compromise For Quality or Safety
T he Parker Direct Fired Type Heat-er represents an ideal heater for thermal liquids. Our all welded, bent steel tube design allows for the continuous expansion and con-traction to which the heater must be subjected without damage. The double welded construction eliminates the problems of rolled or poor joining of tubes, experienced in competitive units.
Atmospheric & Low NOx Thermal Liquid Heaters
Heaters up to 6,250,000 BTU
The Parker bent steel liquid tube design offers an extremely efficient, reliable thermal fluid heater built for the long term and ease of maintenance. Low NOx burners are available. The Parker design offers many advantages. Compare ours to the competition.
Thermal Liquid Applications
Process heating applications which require temperatures between 350° and 650° F can frequently be serviced more dependably, efficiently, uniformly and safely with a Thermal Liquid System as opposed to a steam, water, electric or direct fired system.Over the past 50 years, thermal liquid systems have been used in a wide variety of applications. The following are some common uses:
Chemical Plants

Plastic Molding

Cooking Fish Sticks To Potatoes

Asphalt Heating

Laundries
Dry Houses
Wood Veneer Manufacturing
Particle Board Pressing

Soil Remediation

Food Remediation

Oil Heating

Adhesive Heating
System
A Thermal Liquid System consists of the heater, circulating pump and expansion tank, and possibly a distribution tank, with properly sized piping to the heat utilizers, such as jacketed kettles, presses, reactors, ovens, exchangers, etc. System distribution tanks for primary secondary pumping systems are common when flow thru the heater cannot be guaranteed with one pump system. Correctly engineered, a Thermal Liquid System is extremely trouble free. Operating pressures are very low permitting the use of standard pipe and fittings. The entire system can be open to atmosphere through the expansion tank. Thermal liquids specifically compounded for high temperature service are readily available.
Typical Piping Schematic

Advantages (Low NOx Models Included)
Safety

Large Heating Surface

Flexible Tube Design

Low NOx
Controlled Flow

Durable Cabinet

Heavy Steel Frame

Heavy Duty Tubes

Heavy Insulated Cabinet