STEAM BOILERS 9.6 - 24HP
PRESSURES UP TO 200PSI (LOW NOx WATER WALL)
LOW NOx AVAILABLE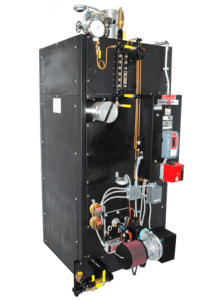 Never A Compromise For Quality or Safety
A time proven product backed by one of the largest and most successful manufacturers of packaged steam boilers whose name is synonymous with quality and safety. Every boiler is thoroughly factory fire tested and is required to meet the highest standards in all places of mechanical and operating efficiency before shipment.
9.6 to 24HP Vertical Water Wall Low NOx Steam Boilers
9.6 to 24HP Steam Boilers
The Parker Boiler water tube design offers an extremely efficient, reliable steam boiler built for the long term and ease of maintenance. The Parker Boiler design offers many advantages. Compare ours to the competition.
Parker Boiler Certifications
All Parker Boiler Steam Boilers are manufactured in accordance with the ASME Power & Heating Boiler Codes and registered with the National Board of Boiler and Pressure Vessel Inspectors. The standard natural gas fired model is furnished in conformance with UL Standard 795 & ASME-CSD-1.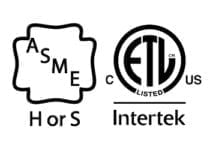 Naturally Circulating Design
The 100 Series Boilers are designed to promote natural circulation of the water based on the heat applied to the lower tubes. The rising water in the tubes is released into the steam drum. The cooler water in the drum proceeds down the downcomer to the mud leg. Parker's 100 Series Boiler's require less than ten minutes to heat up to 100 PSI from a cold start which is a considerable time and fuel saver.
Advantages (100 Series Low NOx Models)
Safety

Large Heating Surface

Simplicity

Dry Steam

Low NOx System

Durable Low NOx Burners

VFD Blowers

Low Cost Operation

Efficient Operation

Fast Heat-Up

Small Footprint

Codes

Heavy Duty Tubes

Heavy Insulated Cabinet
Low NOx Premix Packaged 
Industrial Packaged Steam Boiler
Horizontal Drum Sectional Water Tube
9.6 to 24HP Gas Fired
Low NOx Premix Technology With Heavy Duty Metal Fiber Burners
The Parker System offers many advantages of Low NOx and CO Emissions, uniform heat distribution over the entire heating surface and improved efficiencies.  The boiler incorporates a Low NOx Heavy Duty Cylindrical Metal Fiber Burner. Parker Boiler's System has been field proven on Parker and other types of boilers as a viable, extremely durable, Low NOx, efficient alternative.
Low NOx Steam Boiler Insert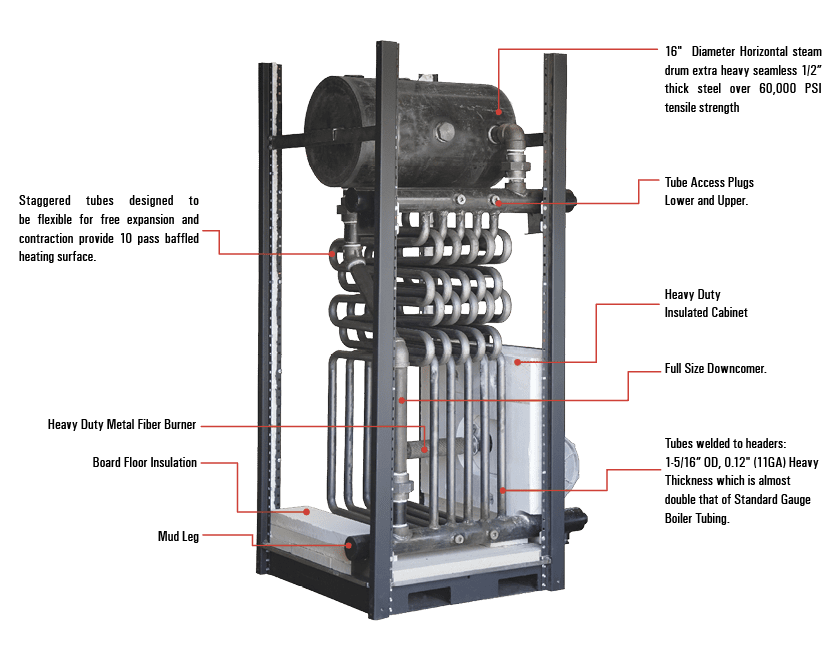 Low NOx Anchor Clip Drawings:

| Title | Categories | Update Date | Download |
| --- | --- | --- | --- |
Low NOx Boiler Drawings:
---
NOTE: All drawing dimensions should be verified prior to installation. Due to continuous improvements and irregularities of purchased structural shapes and rounding, dimensions may vary and are subject to change without notice.
If the model of the boiler you are looking for is not readily available here please contact Parker Boiler for more assistance at (323) 727-9800 from 8:00AM to 5:00PM (PST).
---
Brochures:

Bulletins:
Spec Sheets:
Operation & Maintenance Manuals: