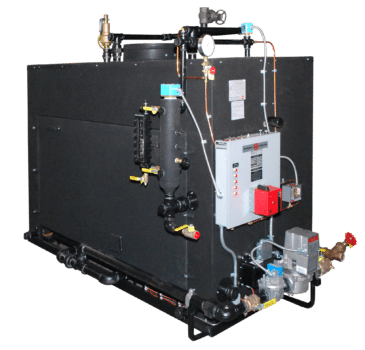 Never A Compromise For Quality or Safety
A time proven product backed by one of the largest and most successful manufacturers of packaged steam boilers whose name is synonymous with quality and safety. Every boiler is thoroughly factory fire tested and is required to meet the highest standards in all places of mechanical and operating efficiency before shipment.
30 to 50HP Steam Boilers (Low NOx Available)
30 to 50HP Steam Boilers
The Parker Boiler water tube design offers an extremely efficient, reliable steam boiler built for the long term and ease of maintenance. The Parker Boiler design offers many advantages. Compare ours to the competition.
Parker Boiler Certifications
All Parker Boiler Steam Boilers are manufactured in accordance with the ASME Power & Heating Boiler Codes and registered with the National Board of Boiler and Pressure Vessel Inspectors. The standard natural gas fired model is furnished as an Under-writers' Laboratories, Inc. Listed Gas Fired Boiler Assembly and displays their symbol on the nameplate. Outdoor, propane and Low NOx models are ETL listed. Canadian models are C-ETL List-ed Industrial and Commercial Gas Fired Packaged Boilers certified to CAN/CGA 1-3.1 and UL 795.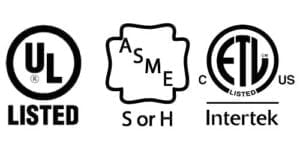 Easily Repaired
Any steam boiler will likely require retubing sooner or later, depending on care and operating conditions. Recognizing this, special design consideration was given to this concern. Parker Steam Boiler Tubing is constructed in several individual sections, each connected to the boiler drum and lower Headers by pipe unions. To replace any section of tubing, it is only necessary to undo the union and remove that section of tubing. It's possible to temporarily operate the boiler with a tube section completely removed by replacing the unions with pipe caps. All sections of tubing are interchangeable and so low in cost that many owners purchase an extra section of tubing to have on hand to meet any emergency requirement. Furthermore, the tubing sections on most models can be turned over after several years of operation adding many additional years of service.
Advantages (Including Low NOx Models)
Safety

Large Heating Surface

Simplicity

Dry Steam

Low NOx System

Durable Low NOx Burners

VFD Blowers

Low Cost Operation

Efficient Operation

Fast Heat-Up

Accessible Internal Inspection

Ease of Inspection and Repair

Codes

Heavy Duty Tubes

Heavy Insulated Cabinet