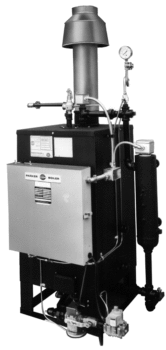 Never A Compromise For Quality or Safety
The Atmospheric Burner System, control system and the entire boil-er are furnished so that it is simple to operate by regular personnel. Simplicity is a decided advantage as there are no expensive blowers, complicated controls, or burner adjustments, as is necessary on many boilers.
1.5 to 3HP Steam Boilers
1.5 to 3HP Steam Boilers
The Parker Boiler water tube design offers an extremely efficient, reliable steam boiler built for the long term and ease of maintenance. The Parker Boiler design offers many advantages. Compare ours to the competition.
Parker Boiler Certifications
All Parker Boiler Steam Boilers are manufactured in accordance with the ASME Power & Heating Boiler Codes and registered with the National Board of Boiler and Pressure Vessel Inspectors. The standard natural gas fired model is furnished as an Under-writers' Laboratories, Inc. Listed Gas Fired Boiler Assembly and displays their symbol on the nameplate. Outdoor, propane and Low NOx models are ETL listed. Canadian models are C-ETL List-ed Industrial and Commercial Gas Fired Packaged Boilers certified to CAN/CGA 1-3.1 and UL 795.