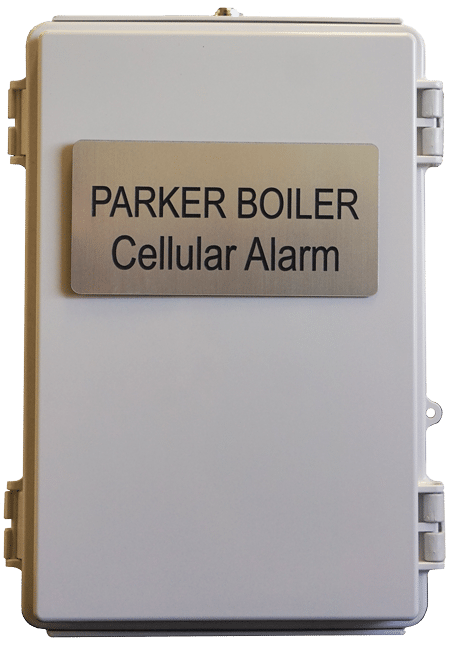 P
arkerView‐Alarm (PV‐A) is a simple to setup, use, and maintain cellular based alarming system for use on boilers or other devices. It allows the owner or operator of the boiler or other device to be off site and be alerted when an alarm condition is detected, cleared or when there is a power loss. This device could allow a boiler service company to know of a boiler problem before the customer is even aware of a down boiler. PV-A is part of Parker Boiler's BMS solutions which include an array of communication products designed to meet customer demands
How does it work?
The alarm has 2 inputs for dry contacts. The contacts can be connected to alarm contacts, relays, switches, etc. (no voltage). When either contact closes, a loud audible alert is sounded first (this can be programmed off), and then a text message is sent.
Text Message
In the event that an alarm condition is detected PV‐A will text up to 3 phone numbers to indicate if there is a problem. If the alarm is cleared an additional text is sent to let an offsite owner or operator to know.
A text is also sent if there is a power failure or low batteries. The unit will continue to run on battery in the event of a power failure.
Programming
The Cellular Alarm is programmed from your cell phone by sending text messages (just as if you were texting any other contact). The Cellular Alarm does not need any other Internet connection. Anywhere there is Verizon service, the alarm should work. There is a test button to make certain the unit is communicating.