A Power Burner Boiler Designed
For A Variety Of Applications
---
---
Designed with simplicity, efficiency and safety in mind.
The Parker water tube design offers an extremely efficient, reliable hot water boiler built for the long term and ease of maintenance. The Park-er design offers many advantages. Compare ours to the competition.
Wherever hot water is required, Parker Hot Water Boilers are found to be unsurpassed in meeting the demand. The universal success of this fully automatic, flexible water tube boiler is the result of proven engineering design combining the best in economy, safety, efficiency and durability.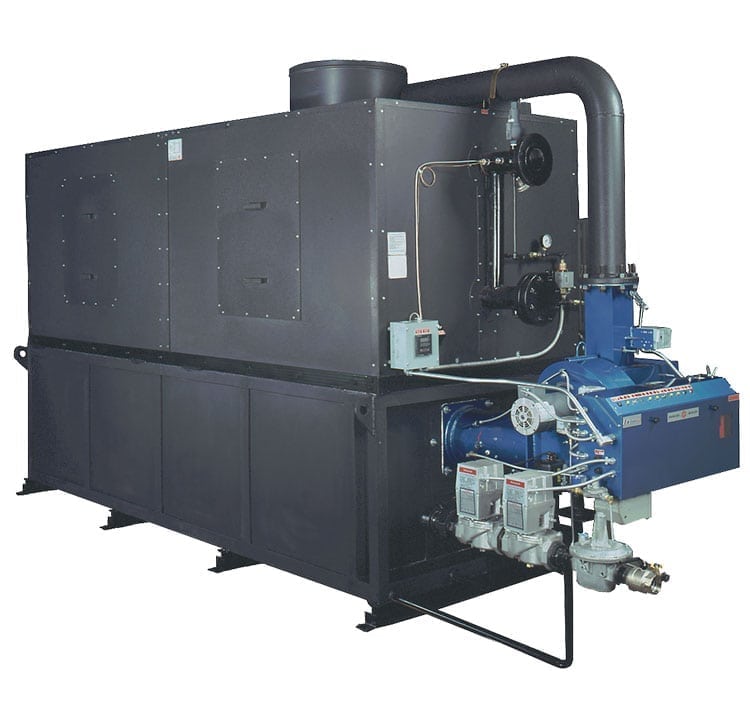 Key Features & Advantages
---
25 Year Warranty Against Thermal Shock
No Parker Boiler has ever been known to experience an internal explosion.
Low NOx models are available incorporating Low NOx FGR Burners.
PERFORMANCE
---
Efficiencies Up to 80%
Pressures Up to 300 PSI
Temperatures Up To 400°F
Fully Packaged
---
Factory assembled in a heavy steel, fully insulated cabinet with boiler, combustion chamber, burner and controls mounted and wired for inexpensive installation. Precast high temperature combustion chamber and quality thermal fiber, insulation prevents heat losses and eliminates all field brick work. The attractive baked enamel wrinkle finish is heat resistant and provides long life protection.
LOW COST OPERATION
---
The staggered tubing design provides a 10-pass self-baffled heating surface to increase efficiency.
Low NOx Premix Technology
---
Parker Boiler's fully modulating variable speed low NOx burner systems offer digital electronic set point control, VFD blower for reduced electrical energy usage, precise fuel/air ratio control with no linkages, cams or FGR valves. The simplicity of the System with no FGR fan or valve, allows normal boiler operators to adjust and service the System. Our heavy duty premix metal fiber burners not only provide the lowest emissions possible but also provide long durable service life.
Advantages to having a Low NOx Boiler
---
• Parker heavy duty premix metal fiber burners.
• Burners provide the lowest emissions possible with a long durable service life.
• Variable Speed Blowers for electrical energy savings.
• Fully modulating variable speed Low NOx Burner Systems offer many advantages.
• Extremely Low NOx & CO levels are attained by our Premix Burner System.
Heavy Duty Construction
Built to Last
---
Every Boiler is built with our customers needs first.
Parker tubes are 1-5/16" OD. 0.12"(11GA) heavy thickness steel which is almost double standard gauge boiler tubing for the same diameter size. The bent tube design permits free expansion and con-traction of each tube independently with changes in temperatures, eliminating strain on the metal, warping and leaking, typical of rigid straight tube design. This construction utilizes heavy material with flexibility to provide extreme safety and long life of tubes.
SAFETY
---
Our ASME tube bundle is extremely flexible and offers a long life with a 25 year warranty against thermal shock. No Parker Boiler has ever been known to experience an internal explosion.
EFFICIENT, DEPENDABLE BURNER
---
A highly efficient power burner is provided. The burner and controls are factory wired, tested and listed by Underwriters Laboratories. Boil-ers are provided with two stage or modulation firing.
RELIABLE AND DEPENDABLE BURNERS
---
LARGE HEATING SURFACE
---
A large amount of heating surface provides increased efficiency, long boiler life and minimizes the chance of scalding. Compare ours to the competition.
HEAVY INSULATED CABINET
---
The cabinet is durably constructed with two thicknesses of heavy steel, insulated on all sides with high temperature thermal fiber insulation to effectively reduce heat losses to a minimum.