Water Wall Design
The sealed combustion design raises efficiency with low-er excess air and minimizes heat loss to the room. A Low NOx metal fiber burner is standard for 20 or 30ppm. The first unit available will be the 9.5LWW followed by a 15HP & 23HP. It also has 2 sides that do not require access, allowing it to be stuck in corner of room saving floor space. The unit is completing SCAQMD Certification testing at this time and will be available 2nd quarter 2016.
Read More – Click Here to Download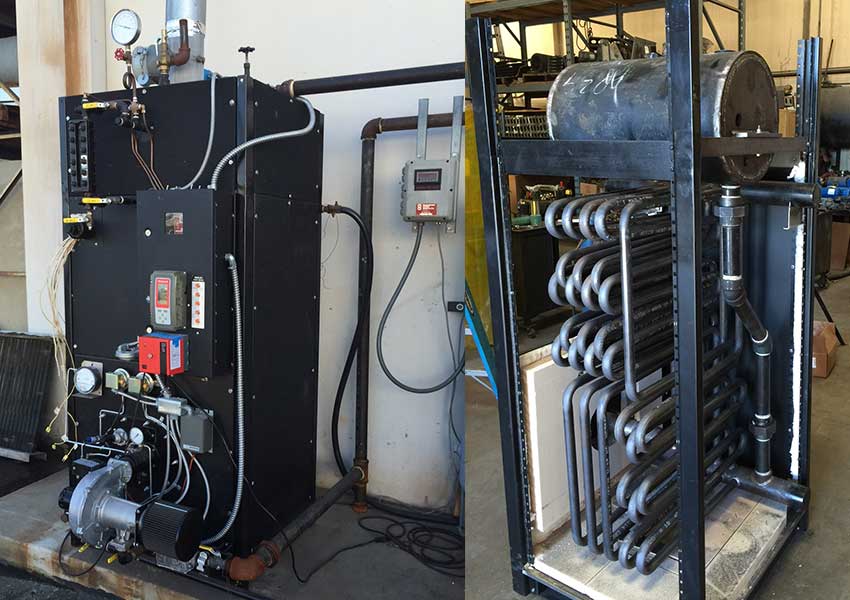 Shown above is a 9.5L-WW (Low NOx) water wall design 9.5HP, 100 PSI Steam Boiler. Parker Boiler has been conducting extensive testing on this new water wall design in 2015. Standard Heavy Duty 1" tubes are used with a 0.12" wall thickness. The tubes are bent around the flame creating a water wall furnace. A large 1/2" thick seamless horizontal steam drum is used for a steady water line and clean dry steam production. Foot print similar to vertical tubeless boiler.