A Hot Water Boiler Designed
For A Variety Of Applications
---
---
Designed with simplicity, efficiency and safety in mind.
We have designed our Parker Hot Water Boiler Series specifically to provide the building heating and industrial processing industries with a Super Quality Boiler with Unequaled Advantages in Safety, Long Life Service and Economical Operation.
The simplicity of the System with no FGR fan or valve, allows normal boiler operators to adjust and service the System. Combustion repeatability is unsurpassed.
Low NOx Models Available!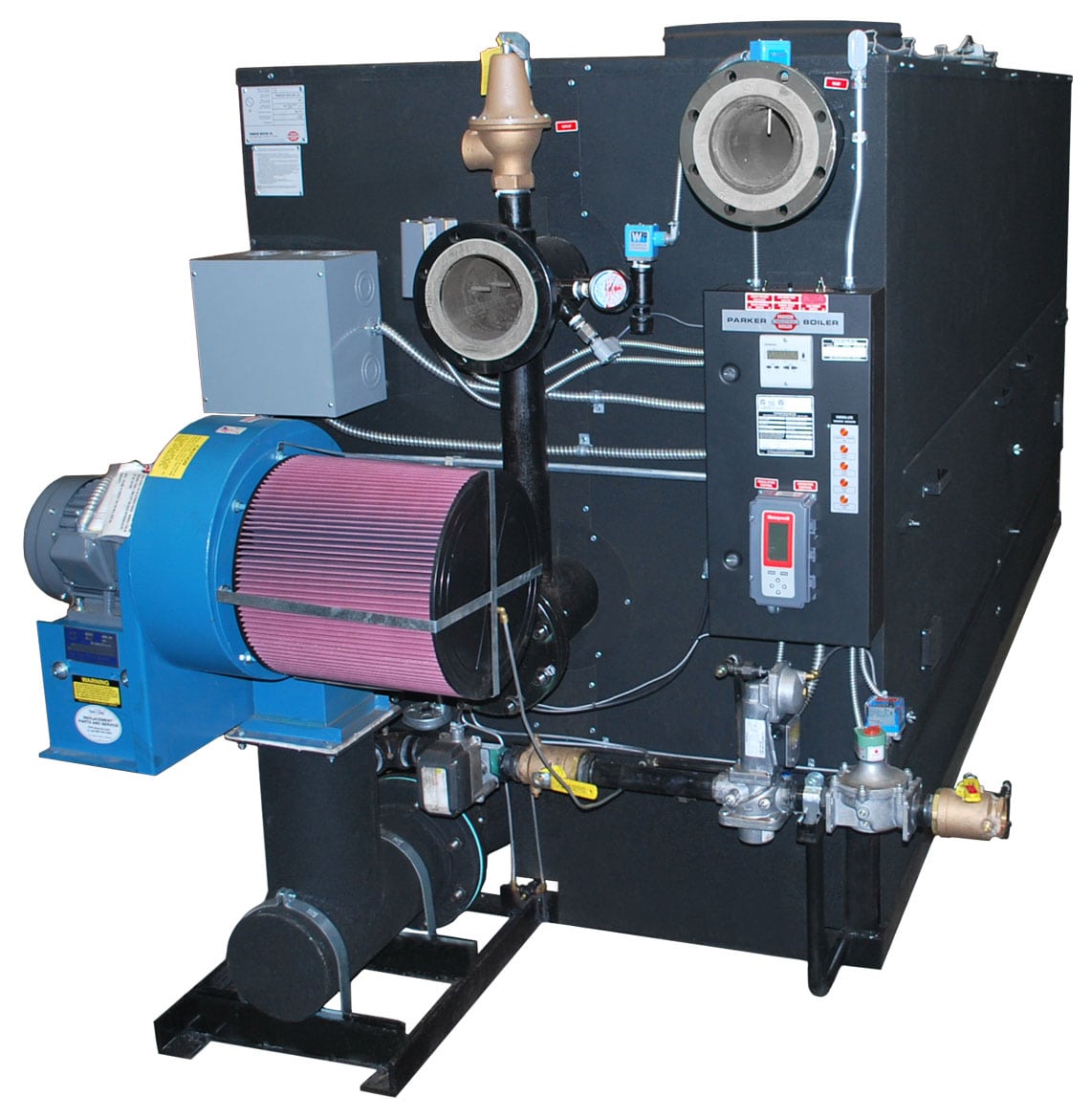 Key Features & Advantages
---
25 Year Warranty Against Thermal Shock
The Atmospheric Burner System, the control system and entire boiler are furnished for ease of use and operation by regular personnel.
Available with Linkageless Parallel Positioning System.

Inspection cabinet doors can easily be removed in a matter of minutes, making the internal boiler, drum, tubes, and burners readily accessible.
PERFORMANCE
---
Efficiencies Up to 86%
Pressures Up to 300 PSI
NOx Emissions as low as 20ppm at 3% O2
ETL Listed, C-ETL Listed, CAN/CGA and UL795 Certified
Easy Internal Inspection
---
Both the upper and lower headers can be conveniently inspected internally. Parker Hot Water Boilers can be internally cleaned quickly, safely, and inexpensively with chemicals.
Burner Controls
---
Automatic burner controls provide 100% flame safeguard with manual reset, dual electric gas valves and gas pressure regulator.
Tube Design
---
The Bent Tube All-Welded construction is the most flexible and durable on the market.
Codes & Certifications
---
All Parker Boiler Steam Boilers are manufactured in accordance with the ASME Power & Heating Boiler Codes and registered with the National Board of Boiler and Pressure Vessel Inspectors.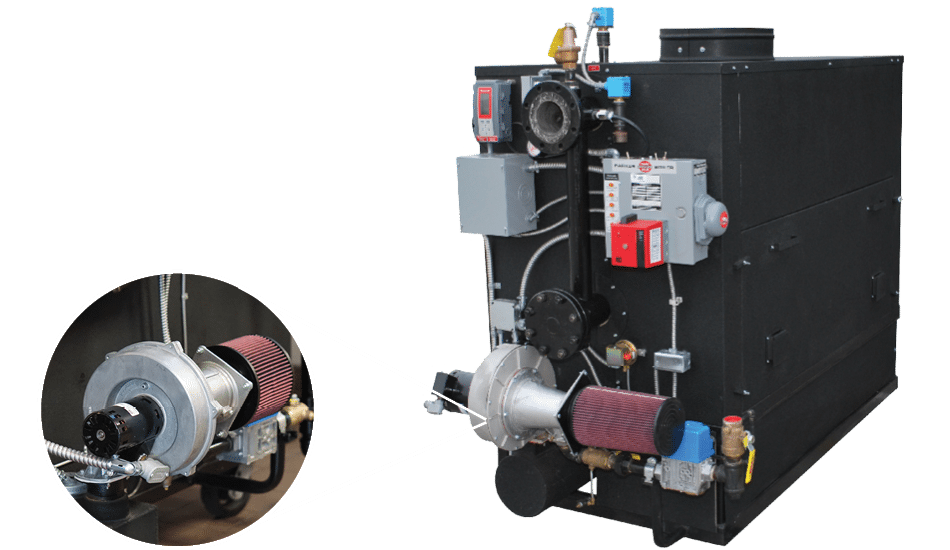 Low NOx Premix Technology
---
The Parker System offers many advantages of Low NOx and CO Emissions, uniform heat distribution over the entire heating surface and improved efficiencies. The boiler incorporates a burner bed of Heavy Duty Metal Fiber Burners (MFB). Through a gas/air premix manifold, the burners may be linked to a fully modulating blower mixer which offers precise control of combustion through the full range of modulation. The Burner System is available on new boilers or for retrofit of Parker. Parker Boiler's System has been field proven on Parker and other types of boilers as a viable, extremely durable, Low NOx, efficient alternative.
Advantages to having a Low NOx Boiler
---
• Parker heavy duty premix metal fiber burners.
• Burners provide the lowest emissions possible with a long durable service life.
• Variable Speed Blowers for electrical energy savings.
• Fully modulating variable speed Low NOx Burner Systems offer many advantages.
• Extremely Low NOx & CO levels are attained by our Premix Burner System.
• NOx levels as low as 20 PPM at 3% O2 and CO levels below 100 PPM are easily obtained.
• Many 12 PPM units are on line with special burners.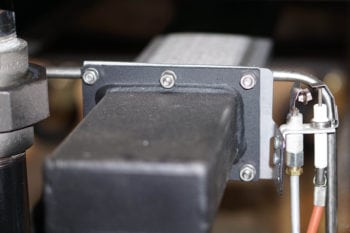 Custom Built For Your Application
And Needs
---
---
Every Boiler is built with our customers needs first.
Parker Direct Fired Hot Water Boilers are ideally suited for all phases of medium or high temperature circulating work. Of the utmost importance is our high degree of ability to withstand thermal shock due to flexible bent tube all welded construction. This enables us to provide a 25 year Thermal Shock Warranty. Another prime considerations is the proper circulation of the heating medium through the boiler tubes, our boiler is ideally designed to obtain the exact required circulation. Internal header baffles can be installed in the headers of the entire line of hot water boilers to adequately baffle the flow rate through the boiler to the required design system flow rate. Our 6-10 pass staggered tube design allows for maximum heat absorption of the products of combustion. Glycol and water blend solutions are also used successfully on Parker Boilers.
---
Hot Water Over Steam
---
Hot Water Heating Equipment is considerably less than the same capacity in steam. Frequently a savings of as much as 25% can be obtained in original equipment cost.
Types of Applications
---
• Metal Plating and Anodizing Tanks
• Laminating Presses
• Chemical Plants
• Building Heat
• Greenhouses
• Food Processing
• Wine Processing
• Meat Processing
• Plastics Manufacturers
• Kiln Dryers
• Parts Washing Systems
Finned Steel Tube Bundle
---
Our "R" series Hot Water Boilers are built with a finned steel tube bundle.
Weather Protective Cover
---
With the optional weather protective cover our boilers can be installed in an outdoor area.
sKID MOUNTED EQUIPMENT
---
All of our boilers can be pre-mounted and pre-piped on a steel skid base for easy installation and peace of mind.